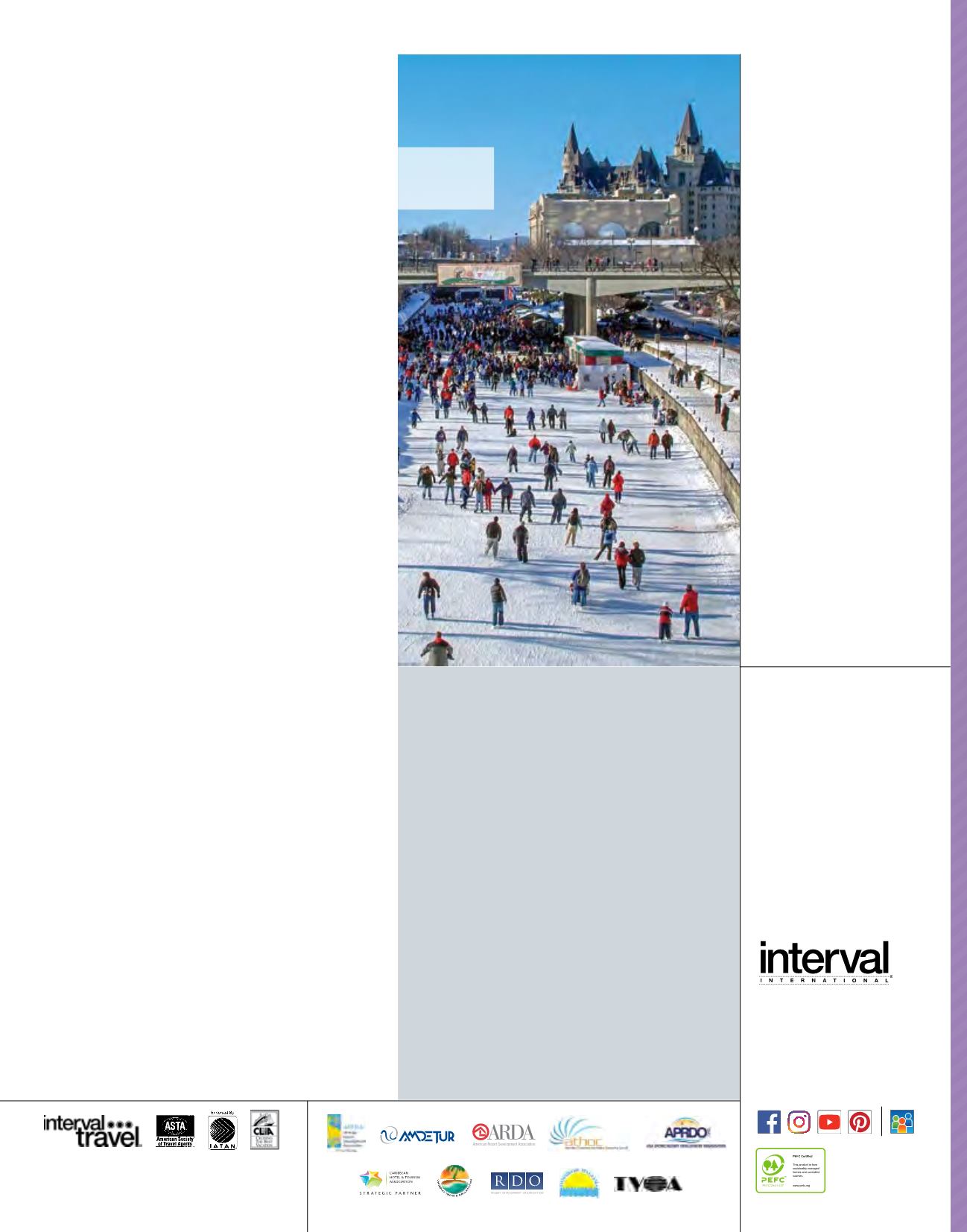 ADVERTISING INDEX
IFC
Interval's Membership Tiers
3
Chicago Title
4
Exchange
7
Planet Fitness
15
Walt Disney World Tickets
21
Divi Resorts
22
Universal Orlando Tickets
33
Allianz
39
Interval Options: Cruises
44
Palace Resorts
48
Westgate Resorts
60
Vistana
™
Signature Experiences
69
El Encanto de la Hacienda
71
Resorts West
73
Priceline Partner Network
79
Interval Options: Interval Experiences
87
Priority Pass
™
IBC
Interval World Mastercard
®
BC
Mystery Sale
VICE PRESIDENT
Torey Marcus
ASSISTANT VICE PRESIDENT &
CREATIVE DIRECTOR
Ailis M. Cabrera
ASSISTANT VICE PRESIDENT –
GRAPHICS AND PRODUCTION
Janet L. Orr
EDITORIAL DIRECTOR
Leah Schwartz
MANAGING EDITOR
Laurie Gallardo
EDITORIAL STAFF
J.B. Bissell
Samantha Monahan
Rebeca Piccardo
Ann Shea
Betsy Sheldon
Paul Sisolak
Bill Sypher
SENIOR PHOTO EDITOR
Kimberly DeWees
ASSISTANT PHOTO EDITOR
Claire Sayan
GRAPHICS MANAGER
George A. Sariego
SENIOR GRAPHIC DESIGNER
Maria Garcia-Aguilar
GRAPHIC DESIGNERS
Frank Gonzalez
Cristina Mencia
GRAPHIC ARTIST
Jessica Rivas
DIRECTOR OF PRODUCTION
Val Chiofalo
MEMBERSHIP RENEWAL
AND ADDRESS CHANGE
Membership Services
Interval International
P.O. Box 430960
Miami, Florida 33243-0960
800-843-8843
305-666-1884
intervalworld.com
customerservice@intervalintl.com
EDITORIAL
Editors
Interval World
P.O. Box 431920
Miami, Florida 33243-1920
intervaleditors@intervalintl.com
ADVERTISING
Christine Palmason
305-925-7025
christine.palmason@intervalintl.com
Interval World
is published by Interval
International, Inc., exclusively for the
members of Interval International.
© Interval International, Inc., 2019.
All rights reserved. Reproduction of any part
of this publication without written consent
is prohibited.
FIND US ON
CST #2030985-50.
Washington Seller of Travel Registration Number 601 765 244.
Iowa Travel Agency Registration Number 837.
Interval Travel is exempt from registration as a
seller of travel in the State of Florida (ST-10224).
INTERVAL TRAVEL
72
Hotels
Sip on a Pike Place Roast from
the original Starbucks in Seattle, Washington;
experience wintertime in Amsterdam,
Netherlands; and explore other city escapes.
74
Getaways
Weeklong vacations to Maui,
Hawaii; the Austrian Alps; Jamaica; and 12 other
fantastic destinations.
80
Tour Packages
Four exciting
adventures, including a journey along the French
Riviera, an exploration of Brazil and Argentina,
and an eight-day excursion to Eastern Canada.
82
Cruise Vacations
A Rhine River
cruise, and can't-miss sailings to the eastern
Mediterranean, the Caribbean, and Mexican
Riviera.
DEPARTMENTS
16
News & Notes
Celebrating 50 years of
Walt Disney World Resort in Orlando, Florida; a 3D
dining quest in Napa Valley, California; a botanical
expedition on Kauai, Hawaii; and more.
62
Flexchange
Ready to vacation in the
next 59 days? Palm Springs and Palm Desert,
California; Cancún, Mexico; and 26 other
exciting Flexchange
®
destinations are waiting to
be explored.
64
Members' Experiences
Interval
members in Branson, Missouri; Southern Italy;
Madeira, Portugal; and on Oahu, Hawaii.
66
New Member Resorts
Introducing
new resorts in the Dominican Republic,
Colombia, Italy, Thailand, and more.
88
In Focus
An up-close look at Paris'
Passage Brady.
80
C
M
Y
CM
MY
CY
CMY
K