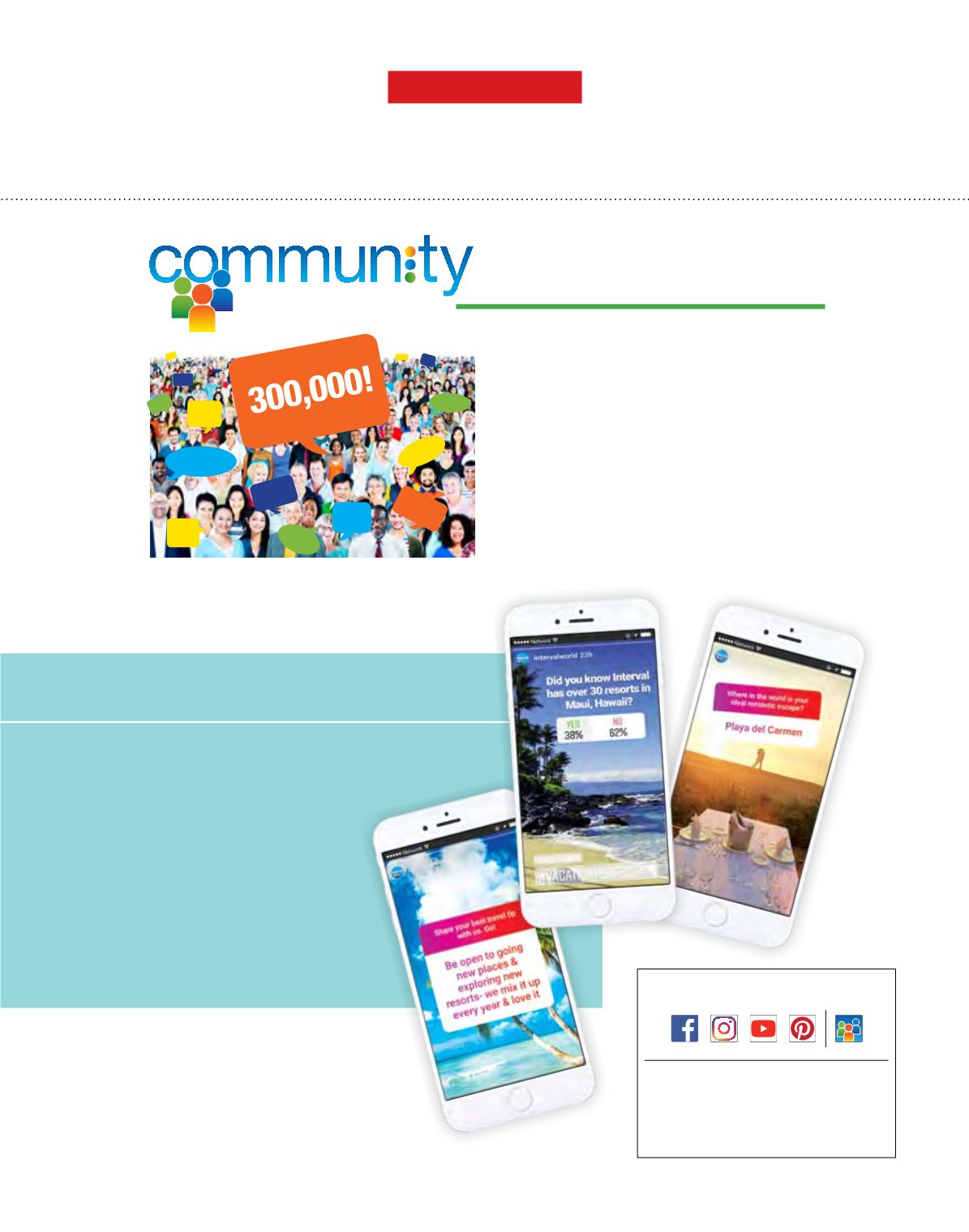 2
INTERVAL WORLD
n
Issue 2, 2019
intervalworld.com
DIGITAL SPACE
WHAT'S GOING ON IN INTERVAL'S SOCIAL MEDIA WORLD
facebook.com/intervalintl
instagram.com/intervalworld
youtube.com/intervalsworld
pinterest.com/intervalworld
intervalworld.com
CONNECT WITH US
Insta-mazing Stories
Looking for vacation ideas, fun facts, and intriguing polls? Check
out Interval International's Instagram Stories! Discover what
members say is their favorite season to travel, their top destina-
tions for a romantic escape, their best travel advice,
and more. You might even learn a thing or two
about your vacation exchange company —
like how many Interval-affiliated resorts there
are on Maui. Follow and like Interval on social
media, and stay in the know! From Instagram and
Facebook to Pinterest and YouTube, Interval's got
you covered with last-minute destination alerts,
new membership benefits and updates, vacation
inspiration, video tutorials, and more.
Many Members. Your Voice.
Community has come a long way since its launch
in 2010 — all thanks to Interval members like
you!
With a new record number of more than
300,000
member profiles, Community has become
the
place
to connect and discuss all things Interval with your
fellow members. Read other members' vacation sto-
ries and get travel tips, membership insights, exchange
ideas, destination reviews, and more. If you haven't
already, create a Community profile on
intervalworld.com
and join the conversation today!
milestone