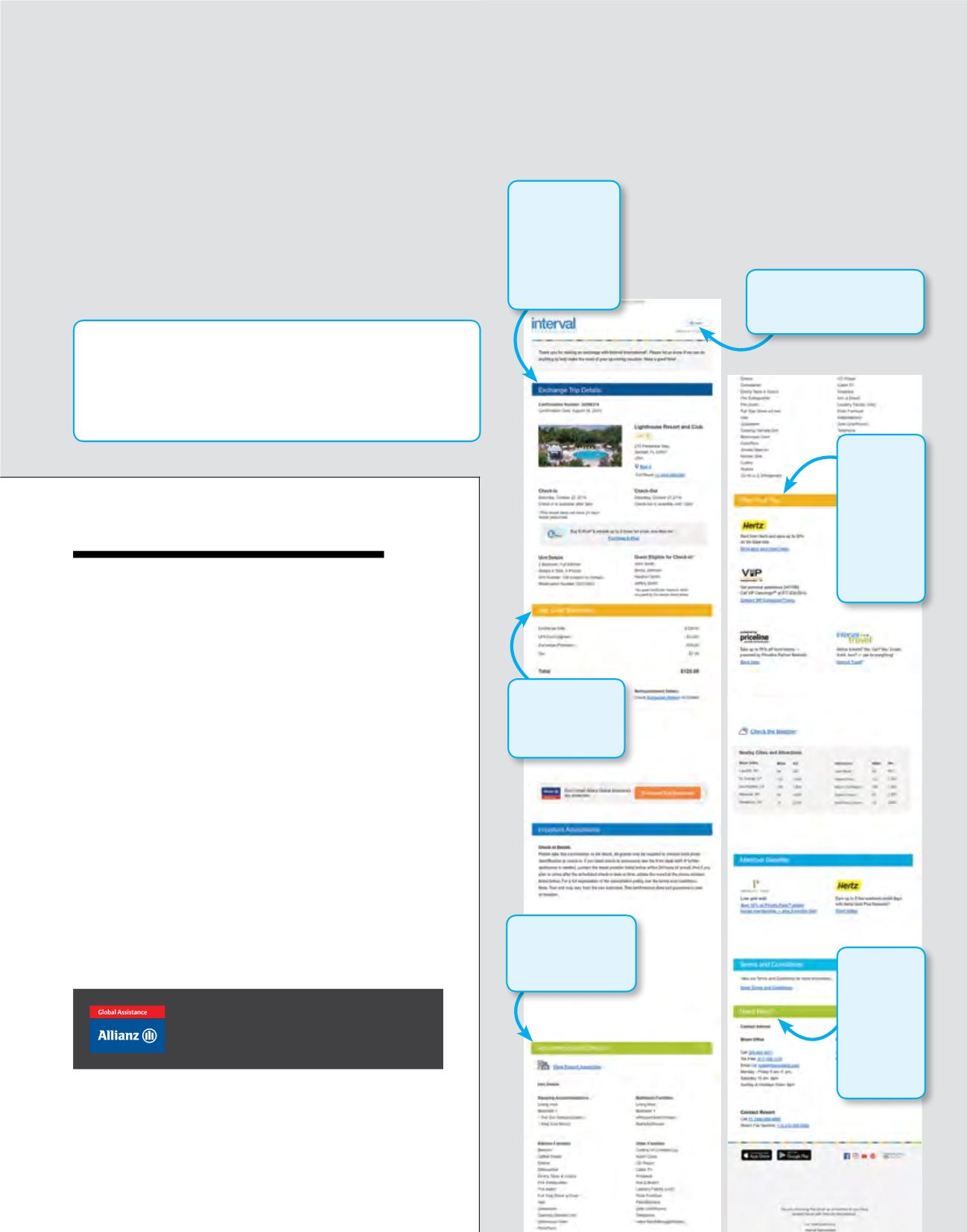 TRIP PROTECTION — AND MORE!
"Stuff happens." That's a phrase we unfortunately know
too well. And when it comes to travel arrangements,
when unfortunate situations happen without recourse,
you could be left with your pockets pulled out. For a
small fraction of your investment, you can rest assured
you'll be protected from a number of circumstances,
such as covered trip cancellation, trip interruption,
lost or misplaced items, travel delays, emergency
medical expenses and evacuation, and more.*
But what you might not know is that Allianz Global
Assistance can also protect you in situations that
may impact your vacation ownership investment
and associated costs, as well as Interval-specific
travel arrangements. Here's a look at some additional
expenses that the right Allianz Global Assistance plan
may be able to reimburse:
•
Exchange fees
•
Getaways
•
Airline tickets
•
Sightseeing tours
Your vacation time is valuable. So is your ownership
investment. Fully protect your entire trip against the
unforeseen with Allianz Global Assistance, and travel
with confidence.
FIND THE PLAN THAT'S RIGHT FOR YOU
AT
INTERVALWORLD.COM
OR CALL 800-INTERVAL TODAY.
*Plan(s) underwritten by BCS Insurance Company or Jefferson
Insurance Company. AGA Service Company is the licensed
producer and administrator of these plans. Contact AGA Service
Company at 800-284-8300 or 9950 Mayland Drive, Richmond,
VA 23233 or
customerservice@allianzassistance.com
.
Better Confirmations? Confirmed!
New user-friendly and interactive confirmations coming soon to your inbox.
Making an exchange or purchasing a Getaway is always exciting. And now,
Interval's all-new digital confirmations will raise the level of excitement to
the stratosphere! Not only are they sharp-looking, they're packed with everything
you need to know about your vacation.With just a click, you can call the resort, get
directions, make plans, access member benefits, and more. And you can do it all
from your computer or mobile device.
HERE'S A LOOK AT
SOME OF THE NEW ADDITIONAL
CONFIRMATION FEATURES:
TRIP COST
SUMMARY:
Contains itemized
payment summary.
EXCHANGE
TRIP DETAILS:
Includes
confirmation
number, resort
information, and
check-in and
checkout dates.
NEED
HELP?
SECTION:
Provides
pertinent
Interval
and resort
contact
information.
CONFIRMATION STATION
Interval provides you with a wide variety of vacation options. Expect the
all-new confirmations when you make any of the following:
•
Full-week exchange
•
Getaway
•
ShortStay Exchange
•
Cruise exchange
•
Hotel exchange
ACCOMMODATION
DETAILS:
Link to
resort amenities and
unit information.
PLAN YOUR
TRIP:
Tailored
offers and
Interval
benefits
available
to help with
your trip
planning.
LOGIN BUTTON:
Click to
sign in to
intervalworld.com
directly from your email
.