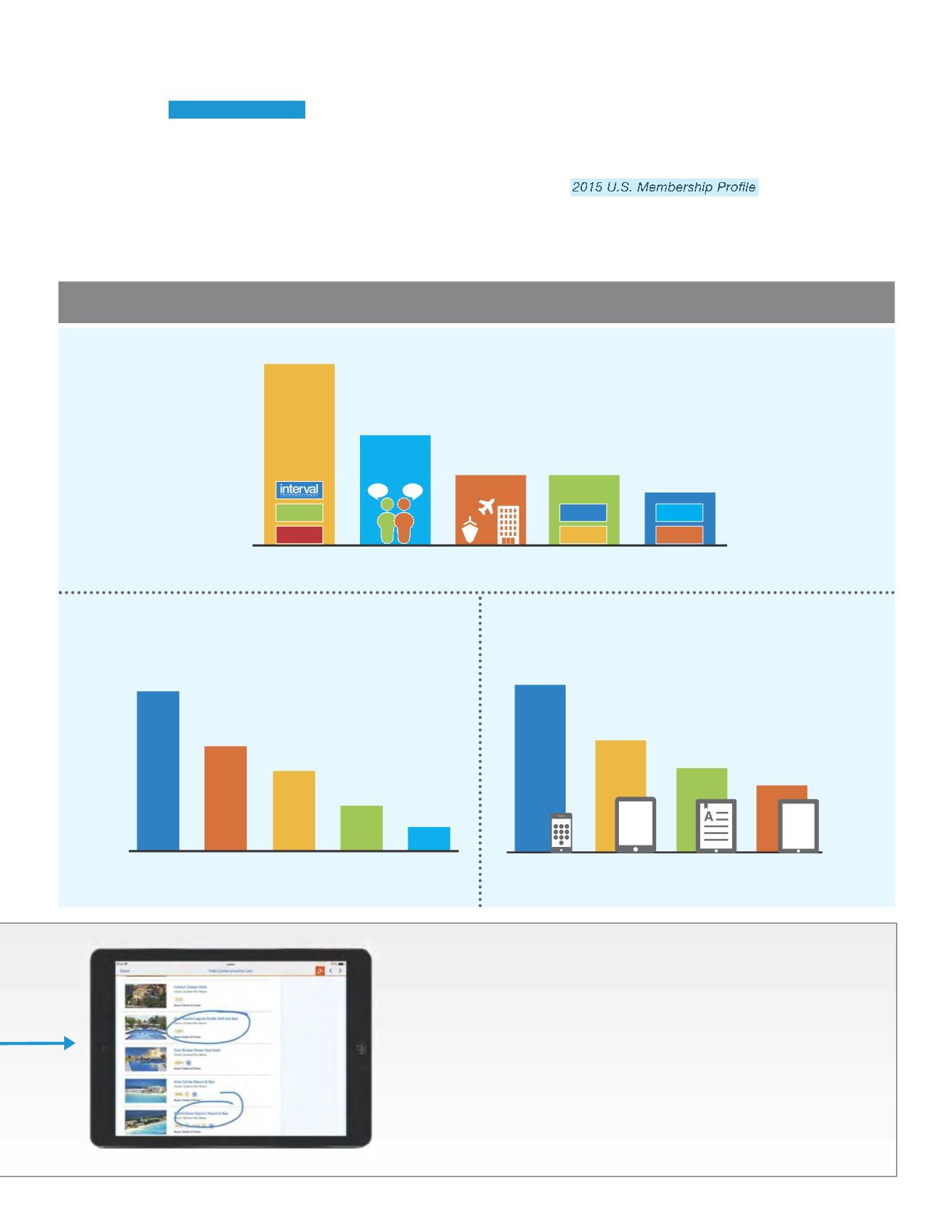 7
R E S E A R C H
The recently released
2015 U.S. Membership Profile
highlights key metrics
reflecting the travel behaviors of Interval members, including details about their
use of technology in relation to travel. The consensus: Technology is a big part of
the travel experience for Interval members. In fact, it's so important, according to
the survey, they value Wi-Fi access at resorts even more than on-site restaurants.
more visual elements." He points out that Workspace allows for multiple presen-
tations based on the particulars of the buyer and program offered.
Ten Broek adds, "Virtually all of these STK upgrades are based on feedback
from clients who are using the app every day."
In addition to the new features, STK includes: Favorites, an easy-to-access
location to download and save preferred sales components; the Interval Exchange
Tracker, which animates member exchanges in near real time on an interactive
map; The Globe, with destination videos on Interval HD, informative articles, and
a summary view of area resorts; and more.
STK is currently available from the Apple store for complimentary download on
iPad devices.
Wi-Fi Trumps
Restaurants, According
to New Member Profile
TECHNOLOGY
Social Media
**
1 2 3
4 5 6
7 8 9
0
Smartphone
iPad/
iPad Mini
E-reader
Tablet
TripAdvisor
Yelp
Online Research
Asking Friends
or Family
Travel Supplier
Online Travel
Agency
Printed Travel
Guides
Travel Research
**
Electronic Devices
**
Overwhelmingly, U.S.–resident members rely on their own
online research when making vacation plans (nearly nine in 10),
followed by recommendations from friends or family (slightly
more than one in two).
86%
52%
33%
33%
25%
82%
54%
41%
23%
12%
60%
45%
36%
Social media is widely used among U.S.–resident
members, with more than eight in 10 citing Facebook
as a principal channel of communication.
Nine in 10 U.S.–resident members own
smartphones.
Facebook Google+ YouTube
Pinterest
Instagram
Orbitz
Expedia
Lonely Planet
Fodor's
90%
** Multiple responses permitted.