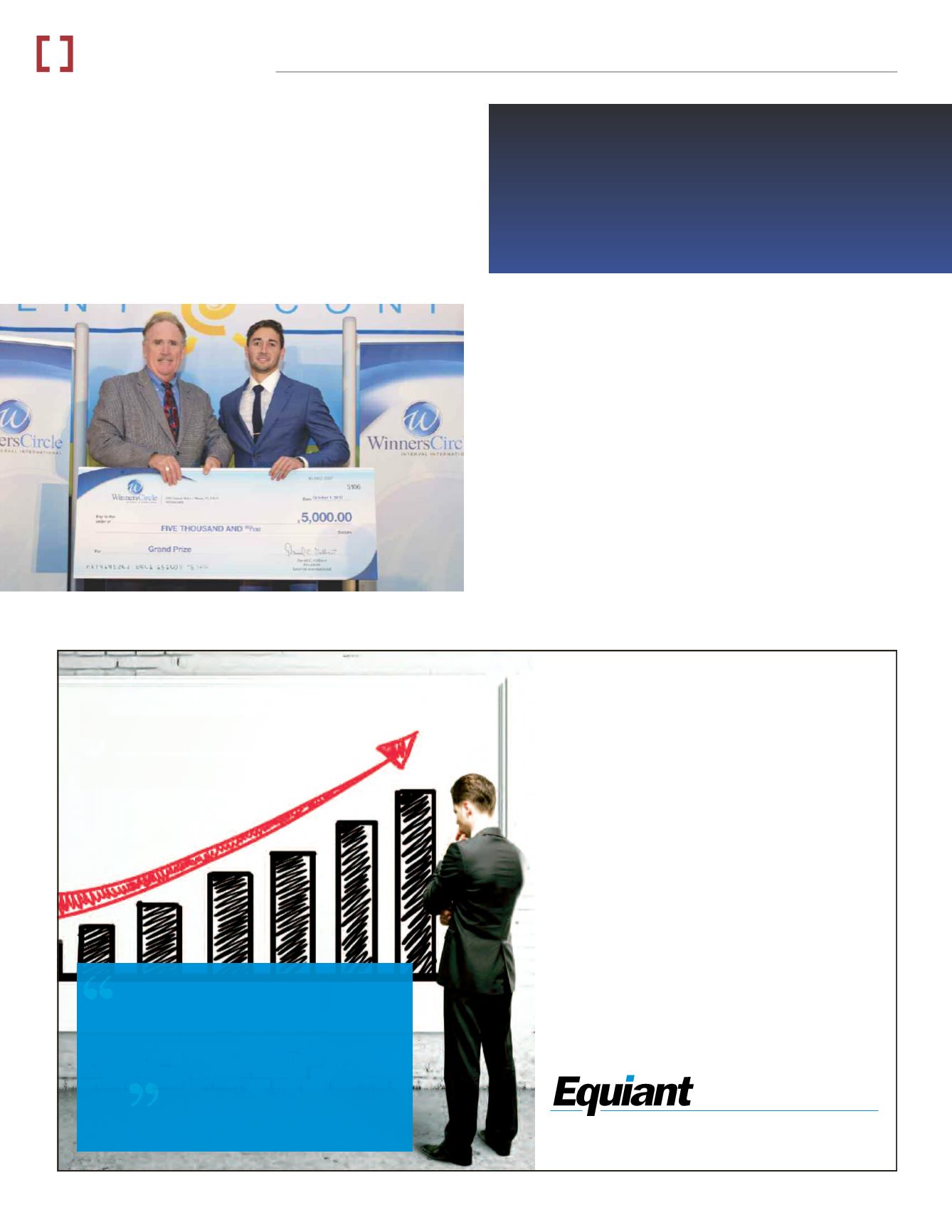 Positive Exposure
A media roundtable was also part of the English-language program, and
featured public relations professionals and veteran travel reporters, who
spoke about how to optimize efforts to get positive media exposure.
"With the rapid growth of social networking and increase in alternative
media, this topic is all too critical to the shared ownership industry,"
notes Bryan Ten Broek, senior vice president of resort sales and market-
ing for Interval International. "The feedback we received regarding the
session has been overwhelmingly positive."
Equally positive comments were submitted regarding other seg-
ments of the conference. Peter C. Yesawich, vice chairman of MMGY
Global, presented highlights from the 2015
Portrait of American
Travelers
(see page 12), with special focus on the proprietary analysis
of leisure travelers familiar with vacation ownership. In another session,
company leaders spoke from their unique perspectives about opportu-
nities and challenges facing the industry.
Session topics ranged from the broad (the state of the industry,
shared ownership boot camp, and the history of timesharing) to the
focused (cyber-security, structuring financial deals, and high-tech
sales). Certain themes played out in more than one session, including:
the role of technology in travel behavior; the relative health of the econ-
omy; the importance of social media; multigenerational travel; and the
impact of millennials on travel and tourism.
And regarding multigenerations, luncheon speaker David Stillman
captivated the audience with advice on reaching the four generations:
traditionalists, baby boomers, Generation Xers, and millennials.
Also part of the luncheon program was the recognition of the
MEETINGS
RESORTDEVELOPER.COM
vacation industry review
JANUARY – MARCH 2016
DP3 Studio
they
in success.
formance indicators within our
tner
our par
Y
us to instantly analyze key per
oduced Equiant Analytics, which allows
, Equiant intr
ecently
r
vicing and collection aspects of our business. Most
tant ser
impor
employ top level systems and people to manage the all
Our
experience in working with Equiant has been that
ove the overall performance of your business.
impr
vicing needs and
perform a portfolio audit to determine your ser
Find out how Equiant can
elationships.
leading to long-lasting r
solution, giving our clients a competitive advantage and ultimately
oach allows us to deliver a higher quality
solutions. This appr
ovid
vices, technology and experienced oversight to pr
oper ser
pr
, combining the
assessing the options that exist and, finally
eview of your business challenges,
conducting an extensive r
ocess includes
vice. Our portfolio management pr
ough ser
thr
elationship
e than 25 years, Equiant has been building r
For mor
our Business.
tfolio Management & Y
Equiant Por
e
s
e ellenc
.
mo.c
t
,
needs
olution
eded.
, Accelerated Assets, LLC
Managing Member
Thomas S. Balamas
tools ne
ed the
s concerns and deliver
Equiant anticipated their client'
rue to form,
onment. T
tfolio management envir
s por
in today'
e invaluable
tfolios and custodial documents. These tools ar
por
cx
Spirit and E
,y ativit
eCr
qu
ian E
.
www
or visit
38 92.5 .30
888
all c
ement
olio manag
our portf
s all y
that suit
om s t
e a cus
ate an cr
e c w w
o find out ho
T
MS
"Congratulations on a great event — very well-
organized and with great content. I hope that in
the future I can always attend these events, as
they are also very enriching."
— Sergio Carmi, director, Mantra Vacation Club
David Gilbert presented the Winners Circle award to Michael Oliveira.
10